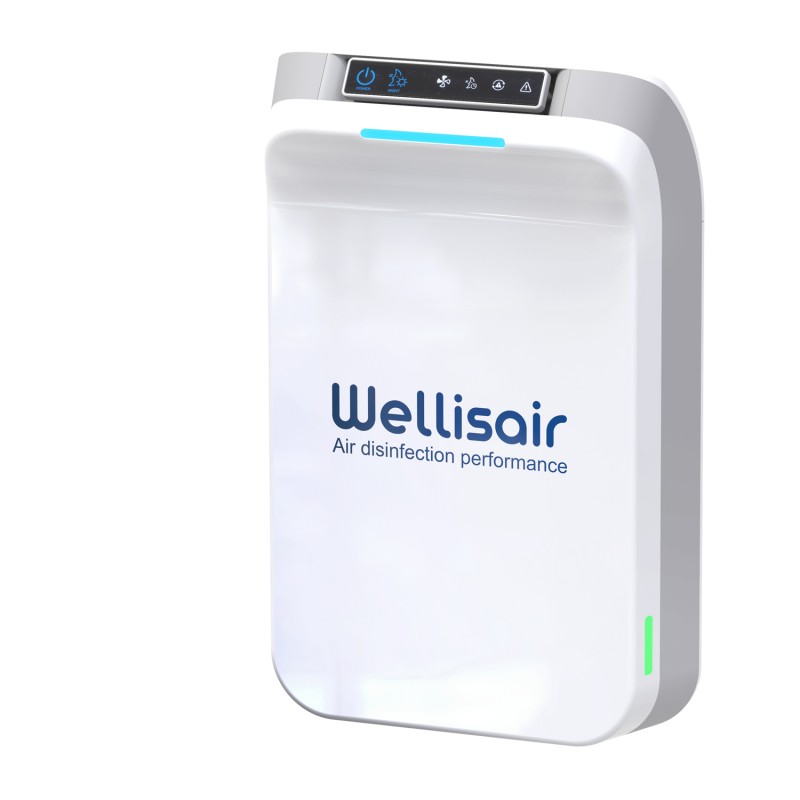  
Pack Wellisair Purifier
The pack is made up of the Wellisair team and a consumable to use it right after installing it
Wellisair cleans, purifies and disinfects the air and surfaces from all hazardous elements using the air cleaning methods found in nature.
The state-of-the-art, innovative and patented Wellisair technology generates and spreads hydroxyl radicals (OH) which by using oxidation eliminates 99.9% of the existing viruses, bacteria, allergens, mold, odors and volatile organic compounds (VOCs).
The Wellisair application field is very wide and diverse: Hospitals, laboratories, food conservation, public spaces, education buildings, transports, offices, veterinarian or malls among many others.
Purifier and disinfectant of air and surface device for enclosed spaces which produces and spreads effectively hydroxyl radicals (OH).
Removes 99.9% of existing viruses, bacteria, allergens, mold, odors and volatile organic compounds (VOCs).
Compact and smart design with rounded shapes and radius.
Very low electric consumption: 3.6 watts per hour.
Works with cartridges charged with hydrogen peroxide solution. Each cartridge has a 3 month lifetime.
On average, it reaches about 50-60 square meters.
Tactile keypad with buttons: ON/OFF, night mode and alarm indicators.
Real time led which shows the air and surface  contamination state inside the actuation zone.
Very low sound level.
The night mode turns OFF the led and reduces the device noise to make sleep easy.
Without filters.
It's recommended to place the appliance at a height of 1.5 meters from the ground, separated from corners at least 60cm and in ventilated places as much as possible to achieve a better and wider disinfection action.
Components of the Welliair Pack:
Wellisair disinfection equipment
Current transformer (input 110-240VAC 50 / 60Hz, output 12VDC)
Foot support
Wall bracket + screws
Disinfectant cartridge with terpene
Quick installation guide
WADU-02 + H2O2 CARDTRIDGE
No customer reviews for the moment.